Thank you for contacting Allseason Contractors of NY Inc., a representative will contact you shortly.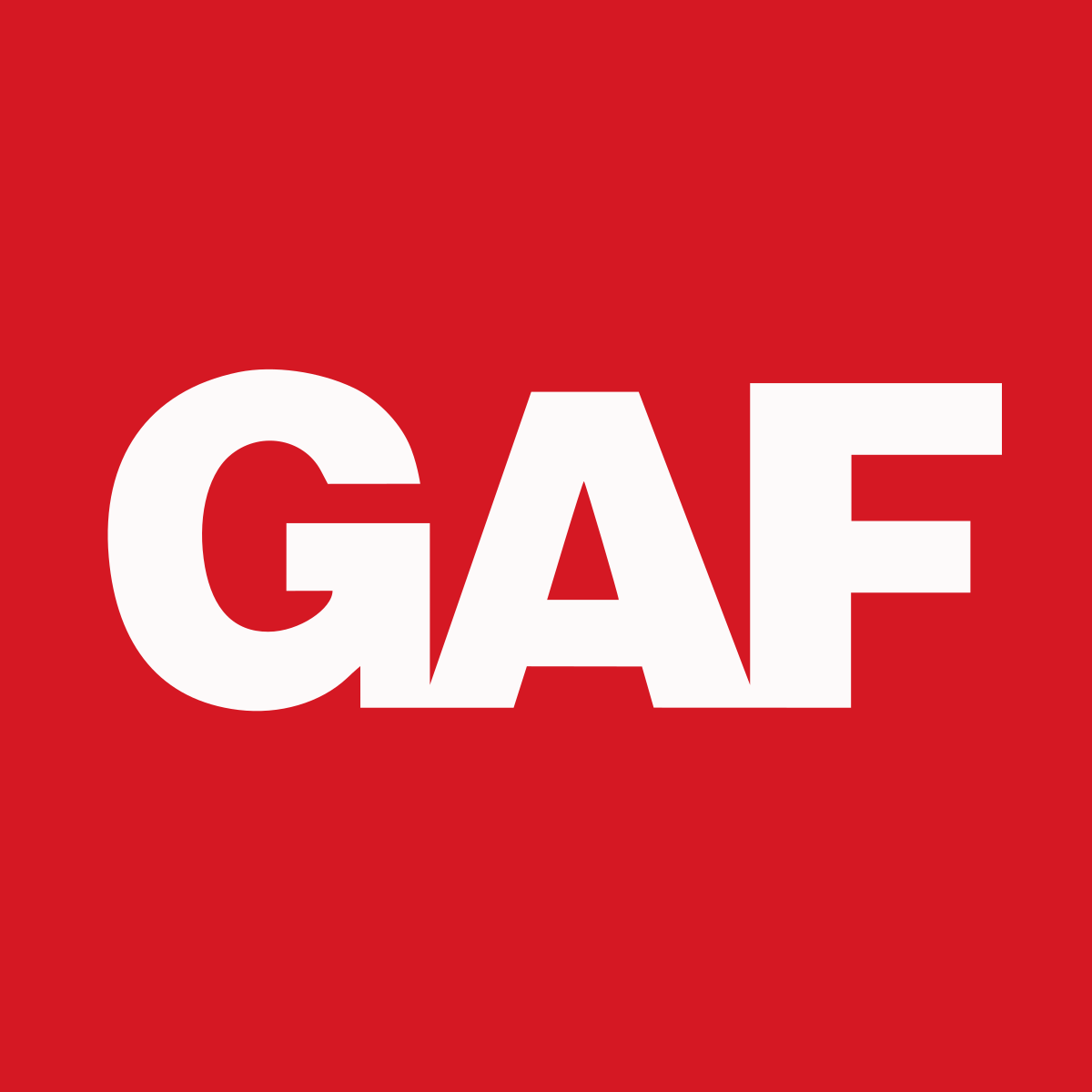 GAF TRUSLATE
Beautiful Durable Affordable
We're proud to feature time-honored slate colors in the TruSlate Premium Roofing System, taken from quarries in New England and Canada renowned for their excellent quality slate products. By incorporating these slates into the TruSlate System, we've made them an affordable option for just about everyone.
TruSlate

Affordable Genuine Slate Roofing
Slate.It's the most beautiful and durable roofing material known to man. For centuries, it's been the roofing material of choice for the worlds greatest buildings. In fact, some slate roofs have lasted for literally hundreds of years, enduring all of the ravages that Mother Nature could throw at them. And, oh yes, slate roofs are heavyand expensive putting them out of the reach of most property owners. Until Now.
TruSlate Slate is the real deal:

Genuine, hand-split S1- Grade quarried slate from North America's finest quarries. Not a synthetic imitation.

The TruSlate Premium Roofing System is lightweight:

Yet the slates themselves are the same thickness and quality as traditionally installed slate.

TruSlate adds more slate where you can see it:

And eliminates wasted slate where you can't see it.

TruSlate Slates won't curl up and warp:

Only genuine slate weathers gracefully over time. In fact, a TruSlate roof becomes even more beautiful as time goes by, adding charm to any house.

TruSlate offers some of the most highly desired slate colors and textures:

Installed for over a century on the finest properties across North America, these beautiful slates are now even more affordable!
GAF TruSlate

Affordable Genuine Slate Products
Beautiful & Durable
Onyx Black
Expertly quarried in Canada at one of the world's most renowned black slate quarries, Onyx Black is a clear, unfading* dark black slate with a slight luster and natural grain. It adds dramatic contrast to virtually any home for truly under-stated elegance. The reflective properties of Onyx Black often produce a lighter appear-ance in direct sunlight and darker shades in afternoon and evening light.
Proven Reliability
Charcoal
Expertly quarried in the United States, this overall medium gray slate consists of both light and dark tones, making it one of the most desired natural slate colors. As part of its natural weathering process, Charcoal slate will exhibit bronze and buff tones throughout the roof, helping to make it the perfect choice for properties where a traditional slate roof look is desired.
Trusted Quality
Autumn Dusk
Expertly quarried in the United States, this slate has a natural variety of greys, greens, tans, and buffs, making it one of the most versatile slate colors available. At first, Autumn Dusk is primarily a gray/green slate. After its natural weathering process, it will provide a wide range of unique earth-toned colors for a warm, rustic look on virtually any property.
21st Century Technology Meets Traditional Slate Roofing
The TruSlate Premium Roofing System from GAF can make your dream of owning a genuine slate roof a reality. Traditionally-installed slate roofing has typically been out-of-reach for most property owners, as the installation is often slow and expensive. In addition, traditionally-installed slate can be heavy, requiring expensive structural modifications to be made to the roof system. The ingenious design of the TruSlate Premium System provides a faster, lightweight installation, allowing it to be installed on virtually any home!
TheTruSlate

Premium Roofing System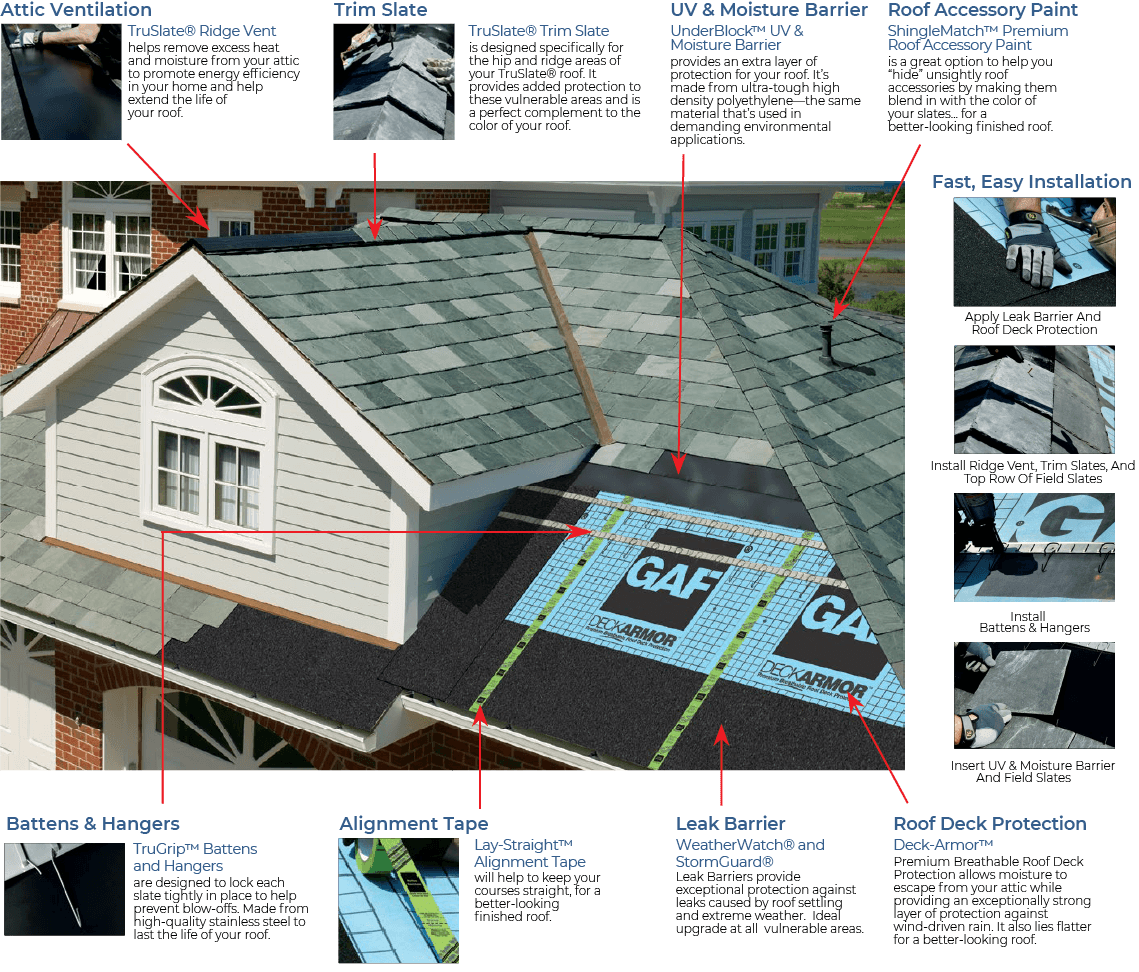 GAF

We Protect What Matters Most
Go Back